Yeeflow is an online BPM and Application build platform that helps business users easily design, create, and customize business applications. we believe the people closest to the chaos know how to fix it best. That's why we created a platform to help all business users discover, create, modify and use business applications.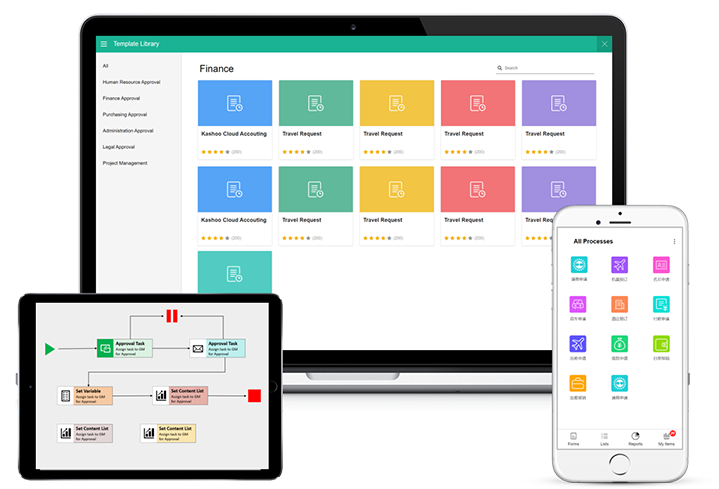 Each application is made using beautiful, easy-to-use, and modern technology to help even non-technical people create amazing applications. No coding or complex mapping required.
Build online forms and workflow
Yeeflow brings the power of business process management and workflow software to your office for a fraction of the cost. With Yeeflow, you can create unlimited forms and work with others. There are many ready-to-use form templates, like Travel Request, Reimbursement, Leave Request, Overtime Claim, Purchase Request, Contract Approval etc. where you can install and customize based on your business needs. You can also create your own from scratch with our powerful form and workflow designer.
Design your online forms with form designer - The drag-n-drop interface to create your forms with more than 40 form controls. Create from simple forms for data collections, to the complex forms with sub lists, data calculations and validations etc.
Define your business process with workflow designer - The drag-n-drop interface to define business process with actions like assignment tasks, email notification, http request etc, and condition settings for process. You can fully control the process according to your organization's reality. with more than 40 form controls. Create from simple forms for data collections, to the complex forms with sub lists, data calculations and validations etc.
Create reports to Measure and Analyze - Allows you to create multiple reports for each form, and customize the data and fields to display. Custom Reports let you focus on what matters the most to you and your team. Share them with whoever you want.
Read our guide about how to design and manage forms and workflow for more details.
Build business applications and workspace
Yeeflow allows you to create custom applications on your own without any prior coding experience or IT expertise. you can custom apps for different business verticals (Order Management, Sales Management, Project and Task Management, Supplier and Vendor Relationship Management, Procurement, Inventory Management, Accounting and Billing, Admin and HR Management)
Workspaces as application base - Manage applications with different workspaces, each workspace can be assigned to be managed by different owners.
Applicaitons for business data management - Create and manage different type of data with content lists. Design the fields, forms, workflows, permissions and performs a variety of automated actions.
Create Dashboard to visualize your data - A dashboard is a customized web page. Create your dashboard with blocks. Bring all contents in one page. Collaborate in context and keep your team on the same page.
Read our guide about how to create workspaces and applications for more details.
Integration with Microsoft Teams
Yeeflow is deeply integrated with Microsoft Teams and Office 365. Yeeflow is available on Microsoft Teams app store, which allows any organizations with MS teams to install and use with teammates.
Teams personal App - Any user can access Yeeflow after installed from the app store. With the Yeeflow app in Teams, you can use the full functions of Yeeflow.
Teams channel Tab - Yeeflow can be added as a Tab in each Teams Channel. When adding a new Yeeflow tab, you can select to add a form or an application.
Teams Mobile App - Yeeflow also supports for Teams mobile apps (iOS/Andriod). With teams mobile app, you can access Yeeflow's forms and applicaitons from the teams channels.
If your organization is currently using Microsoft Teams, read our guide about An overview of Yeeflow on Microsoft Teams for more details.
Get to work in Yeeflow
Does your company already use Yeeflow?
Read our guide to get started and learn how to use Yeeflow from the web site and Microsoft Teams:
2. Working in Microsoft Teams App
3. Working in Microsoft Teams Tabs
Are you looking to set up Yeeflow for your company?
Learn how to sign up your Yeeflow account from Email, please kindly refer: Sign Up with Email.
Learn how to sign up from Microsoft Teams, please kindly refer: How to install Yeeflow from Teams App Store.
Ready to keep learning?
Find detailed how-to articles in our Help Center (hey, you're already here!), or learn from our free, interactive training app.